purple blend. Strong, anise, The son inherited the bulk of the myrrh anise,It is an uncomfortable fragrance.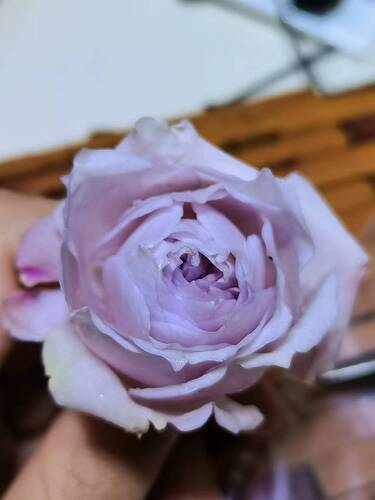 Congratulations! A very nice looking bloom with the added bonus of great fragrance. Ticks at least two of the boxes right off!
Looking forward to learning of its development – health, architecture, rebloom, ease of propagation, etc. (Any idea of the mauves in proximity? I wouldn't necessarily rule out a more unusually colored daddy.)
Very beautiful bloom, @Eric , what a lovely color ! Congratulations!
Thanks for sticking up for me,The second flowering just born,Height: (12cm),Disease susceptibility: susceptible to blackspot ,Disease resistance seems to have inherited from mother.The father's information is unknown and comes from mixed pollination,Other aspects to be observed .
Thank you. More blue roses will be sent later.
Thank you for your suggestion, but I have selected mixed pollen pollination for some flowers, and there is no record. This is a beautiful flower selected from some plants of the same combination
wow!Strive for Chinese rose breeding
Wow. Gorgeous! And I absolutely love the fragrance of Distant Drums, so don't fault it for that.
Really Beautiful! Congratulations!
I looked up the lineage of Distant Drums expecting to find Silver Shadows in its' ancestry because of the anise/myrrh fragrance. Not the case. I was expecting that because Silver Shadows has always had that scent for me, even though HMF lists a strong citrus scent.
I'm excited to see the rest of the story, as Phillip outlined.
Tony