I was looking for something else … but I do a lot of that.
Sci Rep. 8: 12912 (2018)
A miR172 target-deficient AP2-like gene correlates with the double flower phenotype in roses
François, et al.
The title says it all. "In the double flower rose, two alleles of RcAP2L are present, one of which harbours a transposable element inserted into intron 8. This insertion leads to the creation of a miR172 resistant RcAP2L variant."
And it goes on like that. It is all well and good, so far as it goes. It does leave lots of room for double-flowered roses that are not descended from the Chinas. Some of these cannot be persuaded to increase the number of petals, suggesting that there may be a different type of doubling for 'Gloire des Rosomanes', 'Trigintipetala', the Rose of Miletus with brilliant color and no more than a dozen petals (possibly the Holosericea), and the Tuscan roses.
Then there was the 'Centifolia' of Pliny the Elder, and the Nabateans. That was possibly a selected form of our Rosa Alba, and probably one parent of the Dutch Centifolias, which owe the rest of their qualities to the Damasks.
The authors also did not include 'Marechal Niel' or 'Alexander Hill Gray', which seem to have inherited the excessive doubling from Parks' (white and) yellow China rose. Has any other diploid China rose packed together so many petals?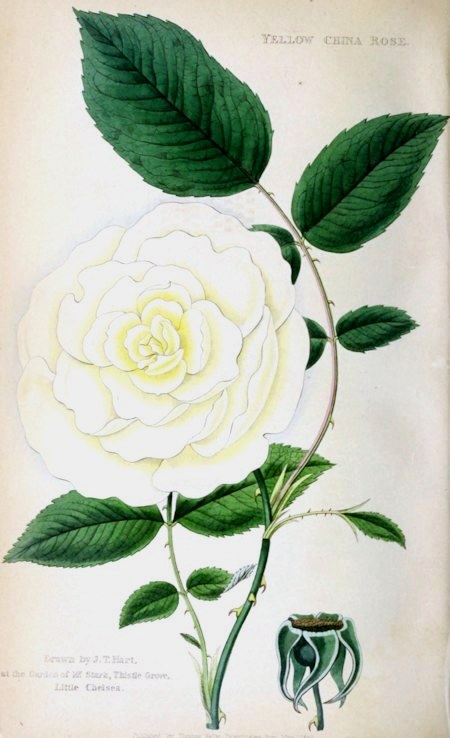 The matter of doubling is a puzzle. I'm pretty sure the China roses had nothing to do with the double-flowered forms of Rosa arkansana.
And it is a strange fact that doubling can turn up in the progeny of interspecific hybrids, where doubling was not seen anywhere else among the parental species.
Vilmorin's Argemone Hybrids (1913)
http://bulbnrose.x10.mx/Heredity/Vilmorin/Argemone/Argemone.html
Pfitzer: Improving tuberous begonias, gladioli and Salvia (1911)
http://bulbnrose.x10.mx/Heredity/Pfitzer1911/Pfitzer1911.html
I recall reading about a double-flowered Plum-Peach hybrid (19th century), but don't have the link. And someone should have a look at double-flowered Petunias to explain the weirdness Mrs. Francis observed.
Francis: Double Seeding Petunias (1915)
http://bulbnrose.x10.mx/Heredity/Francis_DoublePetunias/Francis_DoublePetunias.html