Does anyone know what the RoKSN alleles of the diploid rosa wichurana are?
In the paper "Diversity and selection of the continous-flowering gene, RoKSN, in rose" by Soufflet-Freson V. et al. (the team of dr. F. Foucher), Fig. 4 states that Rosa wichurana has RoKSN_G181 allele. In the video on youtube, dr. Foucher explains an experiment between Old Blush and Rosa wichurana and in this experiment Rosa wichurana is said to be RoKSN_copia/RoKSN_wild_type.
What are your views on this? Are both correct?
But also, in fig. 4, the accumulation of the RoKSN transcipts are mentioned. For rosa wichurana, this is huge, which explains it's Once Flowering character. At the other hand, For a rose as 'The Fairy', which also contains the RoKSN_copia allele (I do not know if it has tis allele on the two sets of chromosomes or only on one set of chromosomes), the accumulation of RoKSN transcripts is almost non existing in 2013, relatively speaking, somehow explaining it's reblooming character. (it was not measured in 2014)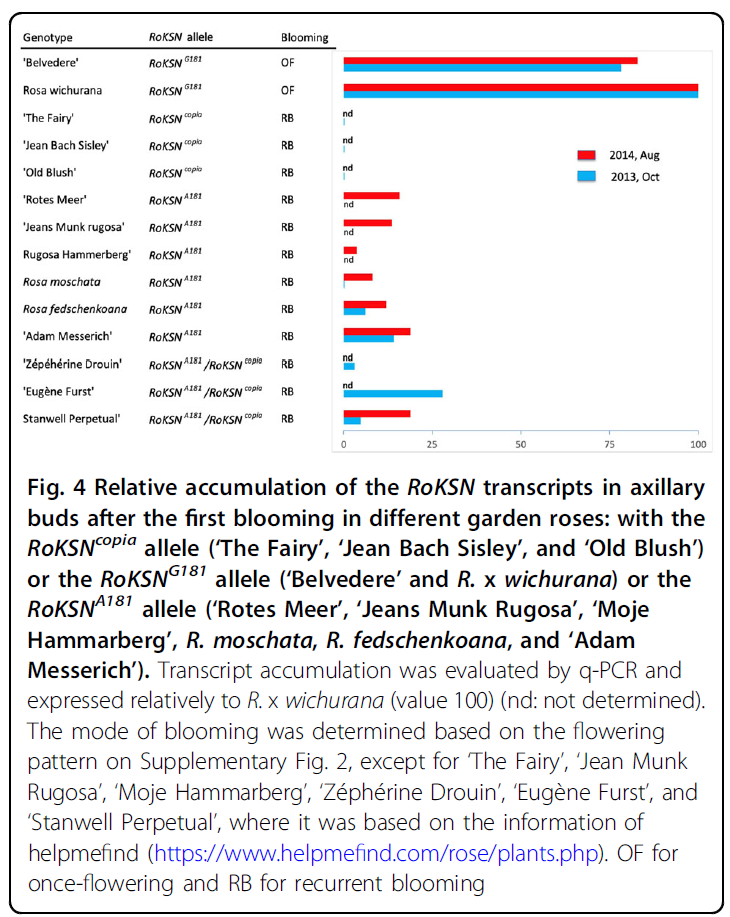 So I am wondering now, does rosa wichurana actually has the copia allele (I gues the answer is yes, but only once) and maybe the Fairy might have 2 alleles of the copia allele?
Unfortunately, these two roses are not part of the supplementary table 8 that comes with the paper.