Congratulations to David! He certainly deserves it.
Congratulations David - a well deserved honor!
Thank you!! I just slipped in under the age limit. The friend that nominated me I learned did so when I was still 45 :0).
Too funny! Congratulations, David!
Very good David. I'm glad the ARS notices rose breeders who aren't corporate employees.
Kudos David!
I see in the announcement that you are collecting diplocarpon. How many strains are there in nature, and are you planning to market saltshakers filled with spores as a selection tool?
Congratulations David! A well deserved honour.
That's a good question Don. We have characterized 13 different races, but there probably are a lot more. What makes a race is that the isolates comprising the race share a common set of virulence genes that can overcome the same host resistance genes. Of these 13 races, every rose we innoculated with them so far have at least one race that can infect it. Collecting more and more isolates and seeing if they represent new races does have some value, but now we feel characterizing the resistance genes in roses using these races has greater value. The USDA is very particular about shipping and the use of pathogens. With proper permits from both parties we can ship races across state lines for controlled research projects. However, the USDA does not look favorably upon these races collected from across the country being shipped to be released into gardens. Unfortunately, black spot is commonly spread through infected plants in commerce across state lines… Perhaps in the future we can have a service where people can ship a plant of interest to us and we can innoculate it with the set of races and for those races that infect it, get a rough idea of relative horizontal resistance based on speed of lesion development relative to control cultivars innoculated at the same time.
Thank you David for a very clear description of the bad news. And the possibility of some good. Happy Thanksgiving holiday weekend.
Yesterday I had some time to sort roses for winter storage (putting pots below ground level and adding leaves). Came a cross a young bush in the making, of Brite Eyes x by Austrian Copper. The tag says it had BS by season's end, but was very vigorous. Whether that is just a gene dosage effect or evidence of a different BS race I have no clue. But it looks like Brite Eyes is imparting enough resistance one way or another to keep it growing in my spotty milieu. No bloom, probably a once-bloomer.
Also this year I had blooms on a bush about 7 years old which came from Carefree Beauty x Carefree Copper. It has the growth habit of CC (which is close to AC with larger leaflets and thicker stems). Three important characteristics: totally hardy in our winters to -10 F; roots freely from cuttings which I tried at a couple different times this summer, right after flowering with flowering sideshoots, and later in summer from growing canes; and finally, no B.S. which is how it lived this long. These features are why it is still around. It did bloom some in previous 2 years so I knew the flowers were good. Overall, very like Above and Beyond as it grows in my yard, but with a more copper colored semi-double flower. Leaflet size and shape and growth habit very similar. For future reference is it is #1100, indicating it was germinated in 2011. (Actually it was 2010 but I didn't start a rational numbering system for seedlings until 2011.) Growing rather neglected under giant walnut tree but vigorous once it got going.
So far A & B is "totally" resistant to my strain of B.S. whatever it may be, though it does get spots in fall which I think are one of the other spot diseases…
Attempting to post a photo of #1100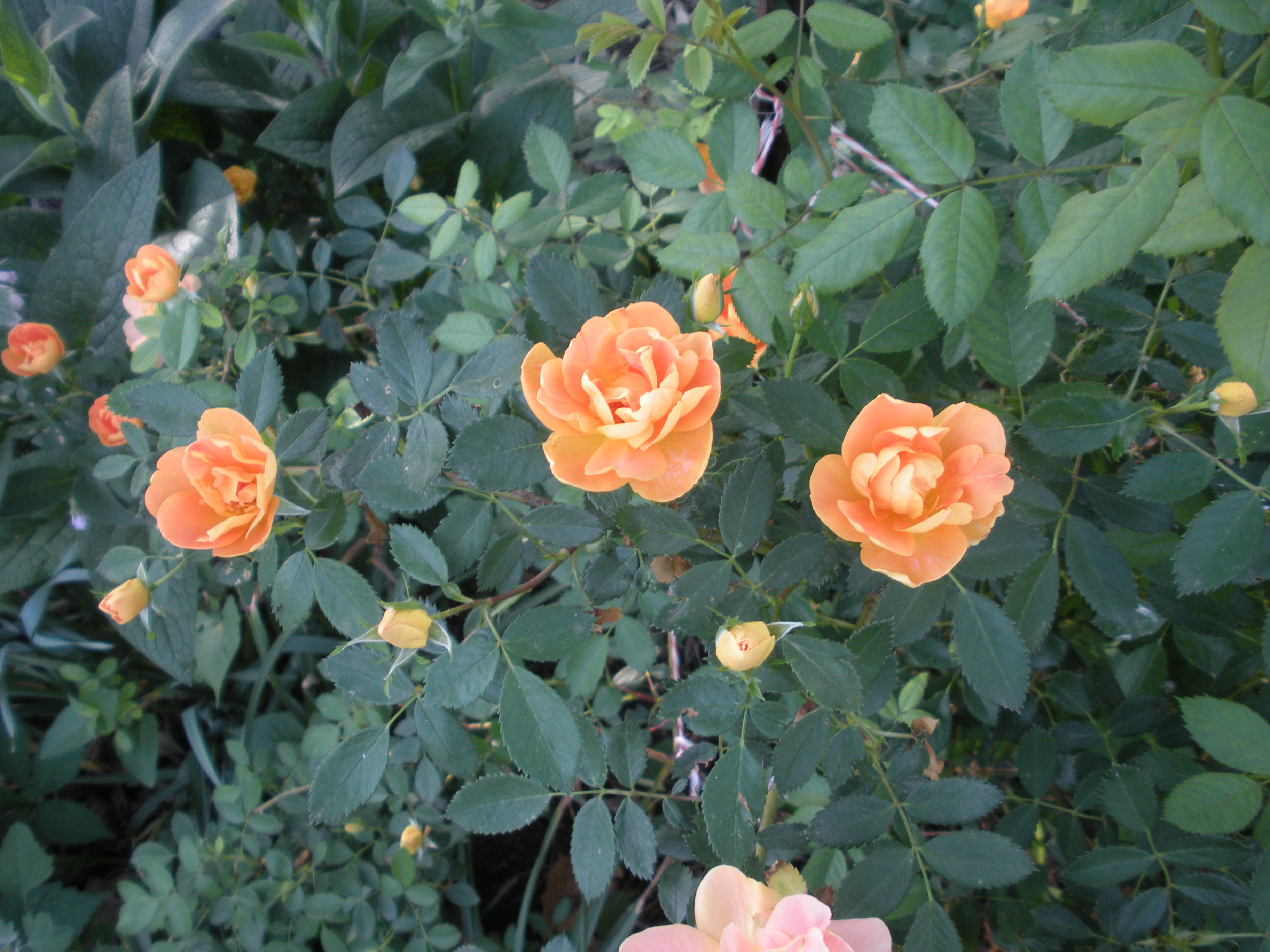 Congratulations, David. Muchly deserved. (Is this a new honor, or do I recall something about this from the past?)
So… Carefree Beauty x (Carefree Beauty x R. foetida bicolor)? That's a pretty interesting result, Larry. (In principal, that's a hardiness on par with Lemon Fizz, no? Let me know if you want pollen next spring – I'm guessing LF will be blooming in my TX garden at about the right time for you.

) I'm guessing, no recurrence noticeable yet?
Larry,
Your 1100 looks really good. Love the color and congratulations on the high disease resistance.
This is totally random, (and I'm sorry for the thread hijack, David!) but here is my seedling #1100. Probably High Voltage x Prairie Joy or something like that based on it's characteristics, but I've lost track of the actual parentage.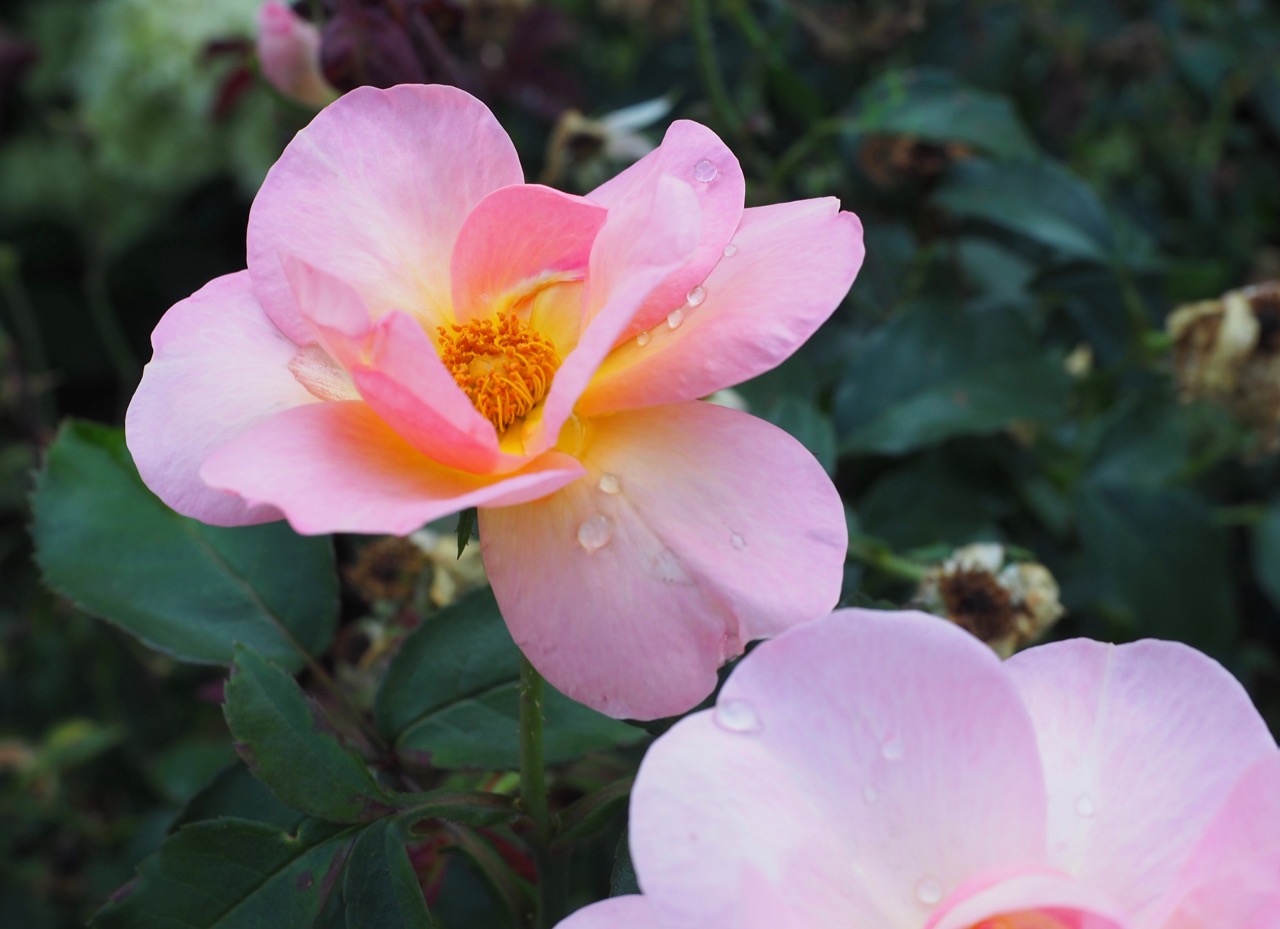 Hoe's Resistance to BS Joe?
Not bad, Rob. I'd say similar to Prairie Joy. Also similar in size - a larger plant. Blooms well. The blue-green foliage is nice. Can't remember for sure if I saw some leafspot on it this year.