I'm doing a bit of research into the genetic history of chinese roses and I was hoping someone could clear something up regarding Park's Yellow Tea Scented China (Siji Danhuang Xiangshui Yueji). The helpme find database for this rose states:
"According to Mr. George Gordon (1806-1879), Superintendent of the Gardens of the Horticultural Society at Chiswick near London, 'Rosa indica ochroleuca' was extinct before 1842. The Tea-scented Yellow China which was widely distributed was 'Rosa indica flavescens', a seedling of Hume's Blush.

The rose in commerce as Parks' Yellow Tea-scented Rose is almost surely not the original. It is likely that the original was lost over 100 years ago. The pale sulfur yellow original was a small shrub that rebloomed, set hips, and had only moderate Tea scent. See descriptions in References. The rose presently in commerce under this name, put in commerce by Peter Beales, is creamy white, once-blooming, strongly Tea-scented and does not set hips.

A new study from 2011 assigns the Name Rosa odorata var. pseudindica to 'Park's Yellow Tea.scented China', based on the original description by Lindley in 1820, i.e prior to the importation by John Parks and Robert Fortune, resp… The description by Rehder in 1915 does not correlate with the "deep yellow" colour stated by Lindley."
In the nature paper, "Genetic relationships and evolution of old Chinese garden roses based on SSRs and chromosome diversity"[2] the researchers place Park's Yellow within the Ancient Hybrid China cluster ( as opposed to the Old Blush cluster) based on Simple Sequence Repeats (SSR) using unweighted pair grouping method. The diagram below has "O3" which is listed in the supplementary materials as this particular rose.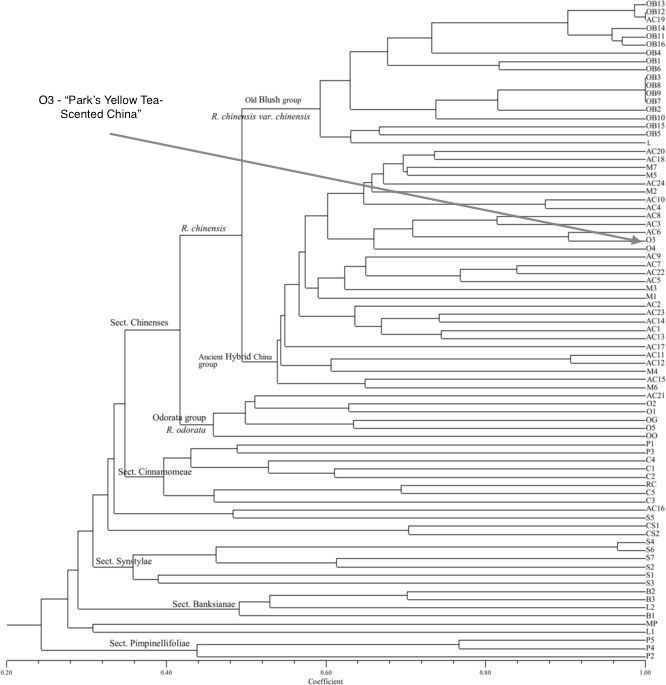 Another paper from 2016, "Nineteenth century French rose (Rosasp.) germplasm shows a shift over time from a European to an Asian genetic background"[1] also lists this rose as one of the roses tested in the supplementary materials to the paper. Alongside the reference to this rose the supplementary materials indicate that the tested rose was bred in 1824 ( as expected for the original ) and was found in the Loubert Rose Garden.
Are the roses tested in these two papers possibly the commerce versions, just mislabeled?
If so, why would it appear to be within the Ancient Hybrid China group rather than the Old Blush Group?
I would certainly appreciate any wisdom this group could offer.
The papers along with the supplementary materials are available at:
https://www.nature.com/articles/s41598-017-15815-6
[1] Liorzou, M., Pernet, A., Li, S., Chastellier, A., Thouroude, T., Michel, G., . . . Grapin, A. (2016). Nineteenth century French rose (Rosasp.) germplasm shows a shift over time from a European to an Asian genetic background. Journal of Experimental Botany, 67(15), 4711-4725. doi:10.1093/jxb/erw269
[2] Tan, J., Wang, J., Luo, L., Yu, C., Xu, T., Wu, Y., . . . Zhang, Q. (2017). Genetic relationships and evolution of old Chinese garden roses based on SSRs and chromosome diversity. Scientific Reports, 7(1). doi:10.1038/s41598-017-15815-6