My early education in matters of evolution came in odd order. I read about Luther Burbank while I was in 2nd grad (Golden Book Encyclopedia), but that was only a teaser. Mendel's idealized model of transmission was used in my 8th grade math to discuss probabilities. Mr. O was not a biologist, so he repeated the old error that the numbers get better (closer to the "ideal") with larger samples. That may be true with coin tosses, but not in heredity. Segregation Distortion is very common.
http://bulbnrose.x10.mx/KKing/KingSegDistortion2003.html
In 9th grade I learned about Dominance Modification and Canalization (both very important concepts), but 10th grade was mostly Modern Synthesis (long out of date even then) with a dollop of Quetelet's Law (not a law) and some biased appreciation of "Hybrid" Corn. I lived in Kansas, so maybe that made some kind of sense.
http://bulbnrose.x10.mx/KKing/QueteletLaw.html
Dominance Modification means that dominance is a quality of traits, not of genes. E. B. Ford demonstrated it with a cross between two varieties of the currant moth. One form has wings with a white ground color, the other has yellow. The F1 specimens are intermediate in color, but not exactly the the same. In just three generations, Ford had bred one line with white dominant over yellow, and another line with dominant yellow.
http://bulbnrose.x10.mx/Heredity/FordDomMod1940.html
Canalization was demonstrated by Waddington with fruitflies. A strain was found that produced some offspring with broken crossveins in their wings, but only if the larvae were subjected to a period of high temperature. He selected only those with this trait, and in each successive generation the percentage of crossveinless specimens increased. After several generations, some of the flies that had not been heat shocked developed wings with broken veins. Further selection fixed the "acquired" trait as a universal feature of the strain.
http://bulbnrose.x10.mx/Heredity/Waddington/Assimilation/Waddington_assimilation.html
These two concepts were precisely what was missing from the Modern Synthesis, with all its "random gene mutations passing through the sieve of natural selection."
How could that work? Mutations must be more common in a population that is large. But how can the population be large if it is not already well adapted? On the other hand, a small population that is on the brink of extinction has very little chance of randomly mutating in a useful way.
But suppose that all those unnecessary random mutations are not immediately brushed aside. Instead, let their uselessness be concealed by dominance modification. Saved for a rainy day, so to speak.
And when a population is facing some unfamiliar stresses, or forced to inbreed more than usual because of declining numbers, the stresses may release some of the hidden variations. Most are probably not useful, but the frequency of old mutations being revealed is correlated with the immediate stress.
Garner and Allard (1920) introduced the concept of Photoperiodism. Along the way the found a demonstration of what I'm discussing. Radishes are not adapted to days with only 7 hours of light. "All but two of the test plants, of which there were a large number, became diseased and finally died without forming seed stalks. The two survivors developed a crown of large leaves, and the roots also reached much larger proportions than those of the controls. Apparently enlargement of the roots had not ceased as late as October 15, when one of them measured nearly 4 inches in diameter while its rosette of leaves measured 30 inches from tip to tip. Flower stems did not develop. "
Jumbo radishes that develop in very short days may not be of great value, but they do suggest one of the many ways hidden variation can be disclosed by unnatural stress.
http://bulbnrose.x10.mx/Heredity/GarnerAllardRadish/GarnerAllardRadish.html
G & A did not do any further experimenting with those two survivors. That was not what they were studying. Still, I think it would be interesting to see what might turn up in later generation.
With these principles in mind, I want to share some speculation about evolution.
Cyclic Manifestation of Sterility in Brassica Pekiensis and B. Chinensis (1922)
A. B. Stout
"It is to be noted that the complete life cycle of flowering plants involves two periods of vegetative vigor and maturity; one for the sporophyte and one for the gametophyte. The former culminates in the production of spores and the latter in the production of gametes. The generations are antithetic. In its length of life, vigor of vegetative growth, and reproductive power (number of gametes), the gametophytic phase has become relatively weak and highly specialized. In the sporophyte great vegetative vigor is correlated with great reproductive vigor in the production of spores (which are, however, in themselves asexual) and in the nurture of the gametophyte and the embryo. Sex differentiation in the great group of flowering plants has been pushed back during the progress of evolution into the sporophytic stage of the entire cycle, and here sexuality now culminates in seed formation in which the nutrition of the embryo is a most important factor. Sexual reproduction in these higher plants has become more and more inter-related with the vegetative phase of the sporophyte and subject to its internal and biogenetic regulation."
http://bulbnrose.x10.mx/Heredity/Stout1922/Stout1922.html
How did the sex differentiation get pushed back? I suggest a particular sort of stress.
The Significance of Responses of the Genome to Challenge (1984)
Barbara McClintock
"One class of programmed responses to stress has received very little attention by biologists. Here a stress signal induces the cells of a plant to make a wholly new plant structure, and this to house and feed a developing insect, from egg to the emerging adult. A single Vitis plant, for example, may have on its leaves three or more distinctly different galls, each housing a different insect species. The stimulus associated with placement of the insect egg into the leaf will initiate reprogramming of the plant's genome, forcing it to make a unique structure adapted to the needs of the developing insect. The precise structural organization of a gall that gives it individuality must start with an initial stimulus, and each species provides its own specific stimulus. For each insect species the same distinctive reprogramming of the plant genome is seen to occur year-after-year. Some of the most interesting and elaborate plant galls house developing wasps. Each wasp species selects its own responding oak species, and the gall structure that is produced is special for each wasp to oak combination. All of these galls are precisely structured, externally and internally, as a rapid examination of them will show."
http://bulbnrose.x10.mx/Heredity/McClintockGalls1984.html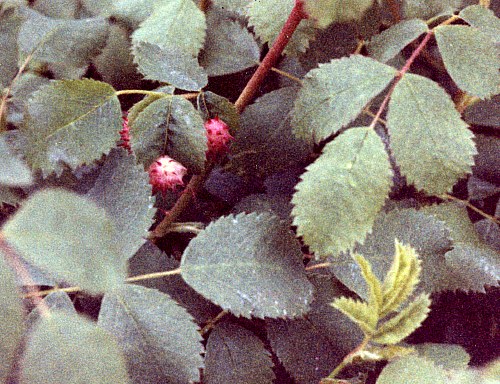 Suppose that some megaspores germinated and became parasites on the sporophyte that bore them. In some cases, the host might respond by building an "immunological structure" to isolate the invaders. I can't get too detailed in this, but gametophytes taking control of the sporophytes genome to form fruit, is no more outlandish than wasp larvae doing the much the same thing with galls on grape leaves.
Over time, the species becomes so adapted to gametophyte-galls (so to speak) that the plants will produce them even without proper fertilization. That's canalization!
If this model has merit, then xenia and/or metaxenia are not at all mysterious. Although the fruit technically derives from sporophytic tissue, it is under control of gametophytes, embryos and endosperms; past and present. This is no more surprising than seeing galls of three or four wasp species on a single leaf. So far as I've found, Swingle (1928) was the first to suggest that embryo and endosperm could be responsible for metaxenia. I like to think that it played a role in creating fruit.
Can ordinary galls become canalized? This is even more speculative.
I have never seen the rose bedeguar gall, but it was commonly mentioned in old Herbals. Hare (1818) wondered whether there might be some connection between the mossy bedeguar and the moss found on some roses. No wasps are involved with the moss rose growths, and the growths are not the same. Still, this growth seems to have been valued enough to encourage cultivation of clones that produced it.
And what was the stress? The great Holland rose, that first bore the floral moss, must have been the product of inbreeding. It probably was raised from the Damask, possibly pollinated by Rosa alba (the original Centifolia), and then inbred. Inbreeding is one way to enhance a desired trait. On the down-side, inbreeding tends to reduce vigor. Thus, crosses of the Dutch Centifolias and Mosses with the Monthly Rose and other Damasks were notably more vigorous.
Hare (1818) also wrote, "… it may be remarked that Roses have been frequently known to lose their mossy character, on being removed from an open situation in which they had previously flourished, to a shady one; the moss becoming elongated, and proceeding from a reduced number of pores." This sounds rather like the modified moss of Perpetual Mosses, which probably were the result of crossing rather than novel sports. The earliest reports I've found insist that the Perpetual White Moss was raised from seed of a Monthly Rose pollinated by a white moss.
Which came first: Gall or Fruit?
Ohgue et al. (2018) wrote, "Here we report the first occurrence of such galls from thalli of a neotropical liverwort, Monoclea gottschei subsp. elongata (Marchantiophyta: Monocleaceae) from Peru. This is also the first report of animal-induced galls formed in modern thalloid liverworts."
It appears that galls came first, which allowed the hypothetical parasitic egg sacs (female gametophytes) to borrow genetic tricks pioneered by the gall-host struggle. Of course, whatever tricks the gametophytes evolve would be added to the toolkit available to gall-builders.