Has anyone got any blooms yet?



Larry Popwell
Almost… there is a Folksinger x Baby Love seedling, looks to be a mini with a yellowish bloom and a Fairhope x Home Run seedling with a red bloom both are about to open. First buds are forming on quite a few of the seedlings, so in a week or so there should be a few more.
Liz
In about 2 months hopefully…I'll add pictures.
You beat me Liz. There has to be some advantages to growing under lights?
I've got about half a dozen that are getting ready to form their first bud. I'm guessing I am about two months away as well.
Well there is a down side Robert, I'll probably be out in LA when they are blooming.
I have a Marie Pavie OP seedling that has a tiny flower bud on it. I'm not sure how long before it blooms.
Liz, Why are you coming here?
I'm visiting/checking up on my uncle. Last time that I was out to see him I was able to visit Sequoia Nursery and meet Mr. Moore. I also went to Descanso Gardens. I'm hoping that he might be up for a trip to the Huntington this time, but I'm playing it by ear. He had a triple by-pass a few months ago.
Too bad you're not coming at a more rosey time of year Liz.I'm sorry to hear about your Uncle. They are getting very good heart surgery these days. It's almost routine. The Huntington really is worth a look see if you have the time. At least some of the Camellias should be flowering.
I have a few blooms but nothing too spectacular. Maybe they will improve with time.
I've had about 2 dozen blooms so far, with another coming every 2-3 days. They're pretty, and help to stave off the winter blahs, but only 2 of these 24 seedlings are worth keeping for a second look.
i do have a lot of species and near-species seedlings which may not bloom for years. When the intial growth reaches maturity, I move the plant to my cool (these days, cold) garage.
Peter
Pictures would be nice.

I'm very curious.
Nothing for me, seeds are still in the fridge

No blooms for me yet, but lot's of germination and seedlings are popping up like mad!
Blooms have started, mostly Folksinger crosses with either Morden Sunrise or Home Run as pollen parent. I have some Gemini x PAL Niagra that should open up in a week. Sorry, but I do not have photos yet.
This is the first of my seedlings to bloom. It was suppose to be Marie Pavie x R.blanda, but you can see it obviously is not. Robin Hood is right next to Marie Pavie and based on the color, that probably is the pollen parent.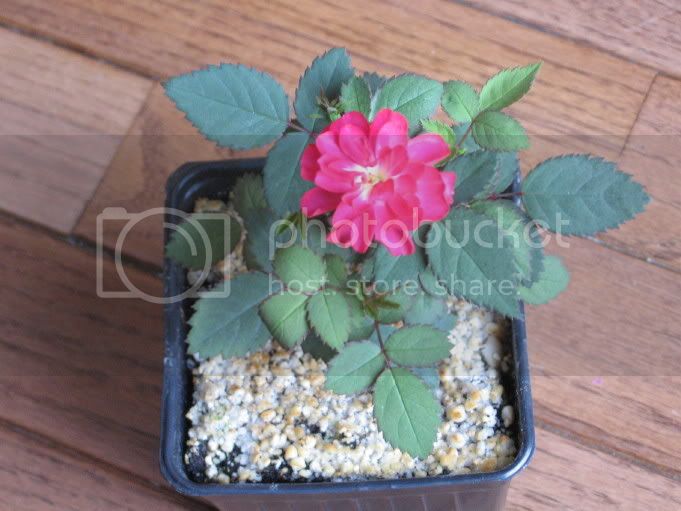 That's still a good cross, though!
Thank you,
Being such a wide cross only a few of the crosses took so there aren
It only takes one, though. I can have a bajillion roses of the same cross and get all crap…or have a few seeds from another crap and get gold. This is why I love hybridizing. It's like educated gambling, lol.
Yes, It's like playing the lottery, but more a lot more fun.lol